Shelfie Closeup: Tips on How to Style a Bookshelf
Let me start this pose by saying that our living room is large but oddly shaped. We have a big living space, perfect for the essentials, a comfy chair, a sectional, a coffee table, a media console and of course, some plants. But then it keeps going with a little nook next to the opening of our dining room and another corner surrounded by windows.
In one section, we made an office space for my husband. And, like everything else, I covered it with plants.
Next spot to cover was the corner opposite this one. It is an odd space, when we first moved in I had a bench there that wasn't getting too much action. I sold the bench and then it was just a sad, empty corner. I decided what it needed was a bookshelf and I found this mid-century style bookshelf on West Elm. Then I found it for a better price on Wayfair and immediately ordered it.
When styling this shelf, I knew a I wanted to feature my favorite things. I had no intention of using it for its main purpose, books, but rather to showcase my things I had curated over the years.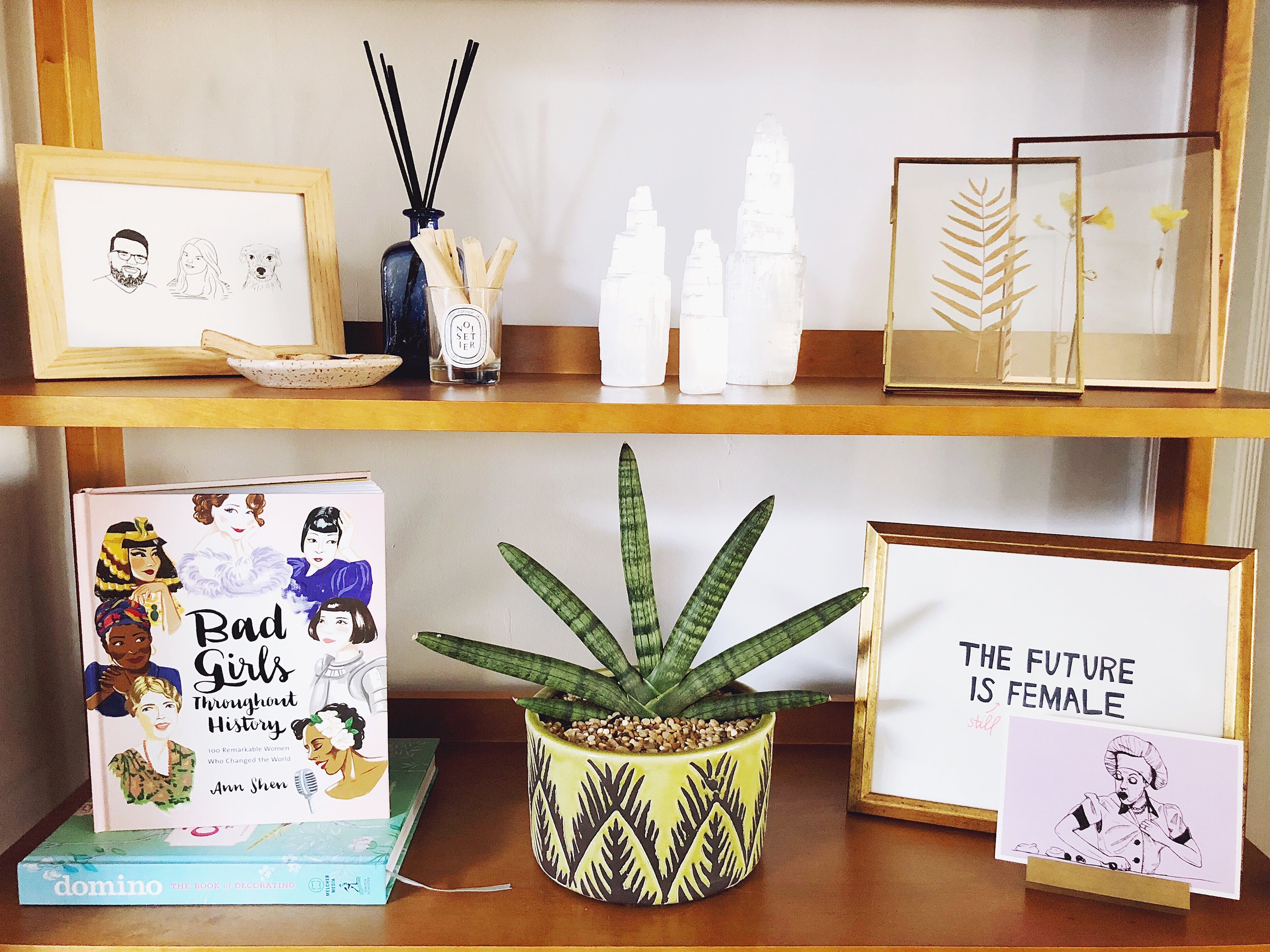 7 Tips for Styling a Bookshelf:
Don't rush to do it all at once. Like with any space in your home, you want it to reflect you and your aesthetic. Fill shelves with things that make you happy and that you curate over time. It is 100% ok to have empty shelves while you collect pieces.

Mix small items with larger items to add height and dimension. I layered a small I Love Lucy print in front of another print to layer colors and add dimension. I stacked three books under a lantern to add height. Thing don't have to be symmetrical. Mix it up!

Showcase the items you love. Just like in a book store, prop up the book or art piece that you want to draw attention to. I did this with the Anna Shen book, Bad Girls Throughout History.

Group items in clusters. This makes a big impact visually. If you have three candles in a row, try clustering them together. I did this with the selenite towers on the second shelf.

Add unique touches. Above our bookshelf I have a family portrait that my dear friend surprised made and on another shelf I have portrait I commissioned from Etsy. These are unique to our home and I absolutely love them.

Add pops of color. Plants are an easy way to add brightness to a bookshelf that is otherwise lacking color. So are books. Arrange books by color rather than alphabetically or by size. Then stack some vertically, others horizontally, and you have created instant dimension!

Take pictures when you have finished styling. Then, change everything and take another picture. Do this over and over then sit down and scroll through the images. Delete the ones that just don't work. Then sleep on it, look through them again and one will win out. I do this when I plan gallery walls too. I lay them out on the floor, rearrange and repeat until I get it right.
I hope you find these tips helpful. Happy styling everyone!